SHMU
Hey beauty people! I am an Austin, TX based solo artist known as Shmu also birthed as Sam Chown. I write, produce, perform, engineer, arrange all my own recorded material as well being the drummer/vocalist/other misc. instruments in the duo Zorch.
CLICK HERE TO HAVE SHMU WRITE A SONG ABOUT YOU
Click the subscribe button to get a free, unreleased, never heard before song along with a song written about you. Please provide your email address, full name, as well as something about you that is unique &/or a strange thing &/or a story about you.
"Zorch, lesbian seagulls and reptiles that secretly rule the world"-NPR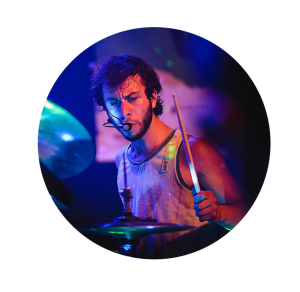 This website is the hub for following my personalized songs project as well as being updated with new singles, albums, music videos & blog posts on my favorite album of the week. If you subscribe to this website, you WILL get a personalized song that I will make just for you along with an unreleased never before heard song.
In Shmu, my music focuses moreso on the prettier, gentler & warmer side of psychedelia/dreampop which is a nice compliment to Zorch's more abrasive & frenetic side. There are links to Zorch as well as my Rawasfuck website which catalogs all my wierdo side project albums, such as the Aqua cover record, Edgar Allan Poe themed sludge metal project, weirdo record about my cat and lots of other fun stuff.
My goal is connect with you on a personal level through my music. Hopefully, it can have some sort of personal impact on your present moment & facilitate making your life a more pleasant experience.



Bio:
I grew up in Toronto, Ontario, Canada where I developed my sound, learned how to play various instruments, banged on multiple tables but mainly focused on working on my craft while singing at age 3. I would record my improvisations which over the course of a decade, turned into a vault of over 200 tapes. I eventually taught myself piano at age 6, drums at at age 7, guitar and bass at age 10. When I went to college in 2004 in Boston, I started developing what would be my sound for the Shmu project. 'Compedium (Early Demos)' catalogs the cream of that exploration. I also met Zac Traeger, other half of Zorch and we would eventually move to Austin, TX where we would write the material for Zzorrcchh.
I have also worked with Top 40 pop/hiphop producers such as Boi 1da, the Maven Boys, Megaman, Liz Rodrigues & many more. I have opened for artists from all genres & walks of life: Talib Kweli, Andrew WK, Dan Deacon, the Sword, Lightning Bolt and many many more.
Feel free to contact me at shmusix(at)gmail.c0m about any freelance work, whether it's producing, playing any instrument, writing, or performing. You can follow me at TWITTER, FACEBOOK & or INSTAGRAM.
"Maximal Pop Masterwork"-Spin